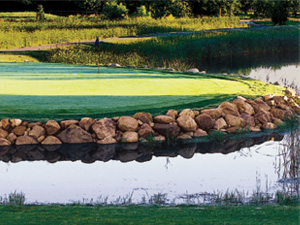 Welcome to The Ponds Golf Course – a very modest community filled with nice people and 27 holes of atypical North Metro golf! It's amazing – we're not that far from the Twin Cities – and yet we're light years away in terms of attitude and ambiance.  Friendly people and great golf help the cause!  Play our golf course and you'll have a good idea why it is called "The Ponds"! But don't despair – it's a great course once you've conquered its inherent natural challenges.  It's fun – and very affordable! Here you'll enjoy a brilliantly-designed and maintained golf course.  You'll play holes with wood-lined fairways, rolling hills, carpet-thick grass – and let's not forget the ponds!
We are now closed for the 2019 season for golf. The bar and restaurant are open Tuesday – Sunday!
2020 Golf Memberships on sale now! $199 unlimited golf!