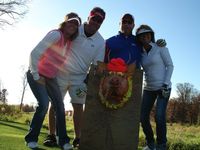 If you and your friends are looking to get away from the hustle and bustle for at least one night each week, our golf leagues have everything you could ask for. Join a golf league at The Ponds and squeeze every ounce of enjoyment out of your golf experience.
At The Ponds we take time to ensure that our golf leagues are provided with the best service possible.  We know that holding a golf league takes professionalism and care.  That's why our staff works diligently to attend to all of our golfers to make sure that their experience at the course will be remembered forever. Take a look at our League section below for a more complete listing of the benefits of joining a golf league at The Ponds!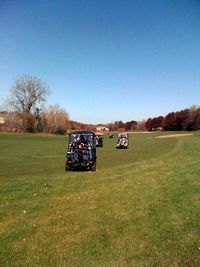 Golf Leagues for Men, Women & Juniors
Most leagues run from April through September.  Leagues are 9 holes in various formats and flighted by handicap.
TUESDAY MEN'S LEAGUE: The Men's League plays to have fun on Tuesday nights. This is a 2 person team league, so grab a partner!  It is a great way to meet other men who enjoy playing golf.  Our league allows the beginning golfers to play along with seasoned golfers.
JUNIOR LEAGUE: The Pond's Junior League is a fun way to meet other juniors that like to play golf.  Our Junior League is for kids ages 7 – 16.  The mission of The Ponds Junior Golf League is to instill a sense of sportsmanship, an appreciation of fair and honest competition, a foundation of sound golf fundamentals, and respect for tournament officials, club members, spectators, and fellow golfers.
WEDNESDAY WOMEN'S LEAGUE: We all deserve to take some time out of our busy schedule for ourselves, and what better way to do that than by playing a round of golf, visiting with old friends, and making new ones.  Our Wednesday Women's League is non intimidating yet challenging for women of any level.  If you're looking to join a fun and entertaining way to meet other women with the same interests, then this is it.  Our goal is to make league play as fun and stress free as possible.
THURSDAY MEN'S LEAGUE: The Men's Club is a great way to meet other men who enjoy playing competitive golf.  It's mainly individual competition, with a few team events mixed in throughout the season. Come join the fun and friendly competition on Thursday nights.
Remember: You DO NOT need to be a season pass holder to participate in our leagues.
For more information on Leagues at The Ponds email us at info@thepondsgolf.com or call us today at (763) 753-1100.